Lives in Electronic Enlightenment
With 10,232 correspondents, representing 62 nationalities and 811 occupations (as of Spring 2022), EE presents a unique online dictionary of historical figures. This is the only resource where historical correspondences are interconnected temporally, geographically and socially, reconnecting people across Europe, Asia and the Americas, from the early 17th to the mid 19th century, and thereby reconstructing one of the world's most significant and largest social networks.
The growing mass of biographical information you will find here — much of it inaccessible anywhere else on the Web — is being further developed by a growing number of internal links between biographies and documents in EE.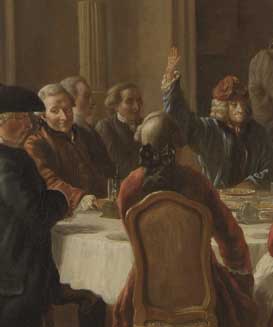 Diner sur philosophes
The study of correspondents
In the new EE Classroom, you will find an area supporting the study of correspondents — including materials of specific interest to the consideration of the "lives" of both authors and recipients of letters.
Begin with a look at:
Lesson plans & Talking points
Please visit Electronic Enlightenment's new EE Classroom, where you will find thematically related letters and lives drawn from EE, which you can use to develop a discussion or suggest a field of research.