Letters in Electronic Enlightenment
With 79,254 documents (as of Autumn 2022), EE presents a unique online collection of correspondences of the early modern period. This is the only resource where historical correspondences are interconnected temporally, geographically and socially, reconnecting people across Europe, Asia and the Americas, from the early 17th to the mid 19th century, and thereby reconstructing one of the world's most significant and largest social networks.
EE's collection covers the spectrum of human experience, and thereby offers a unique glimpse into the lives of the past! Writers express their joys and sorrows, triumphs and despairs, loves and hates in ways that would never be seen in formal publications of the period, giving a revealing glimpse into the minds of the times.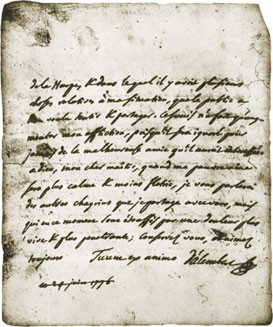 d'Alembert to Voltaire, 24 June 1776
The study of correspondence
In the new EE Classroom, you will find an area supporting the study of correspondence — including materials of specific interest to the consideration of "letters" both as historical objects and historical records.
Begin with a look at:
Lesson plans & Talking points
Please visit Electronic Enlightenment's new EE Classroom, where you will find thematically related letters and lives drawn from EE, which you can use to develop a discussion or suggest a field of research.