Collaborate: documents in translation
Addressed to everyone: a translation programme from EE
We are currently developing a translation programme, in collaboration with several leading graduate translation programmes at US universities. We are offering a select group of letters from the EE corpus for students to translate as part of their coursework.
After translations are returned, checked and processed they will be published online, linked to the original document, with an acknowledgement of the translator and the translation program. If the translating institution agrees we would like to put a stable url link to their relevant department or program.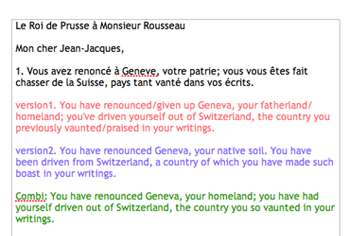 Translating Walpole (faux Frederick the Great) to Rousseau
---
If you are interested in exploring links between your project and the Electronic Enlightenment Project, please email to discuss .